Creating a charcuterie board is not only one of my favorite ways to present appetizers when I entertain, but I also love to create mini charcuterie boards for dinner. Add a glass of your favorite chardonnay or cabernet sauvignon, put on a rom-com, and you can have date night at home with your partner. If you have young children or teens at home, you can get them involved in placing the items on the board or helping to prepare them by washing fruits and veggies or cutting up cheese.
You can create a charcuterie board for any kind of lifestyle or diet. Whether you or your guests are keto, low carb, vegetarian, or vegan, there are options you can include on your charcuterie board. When you have a variety of items on your board there's something for everyone, even the pickiest of eaters.
Usually a charcuterie board contains foods that are savory, salty, creamy, and sweet. Meats and cheeses, nuts and crackers, creamy cheeses and dips, veggies, and fruits and chocolate are all examples of what you can include on your menu. You can keep it as simple as you want or go all out!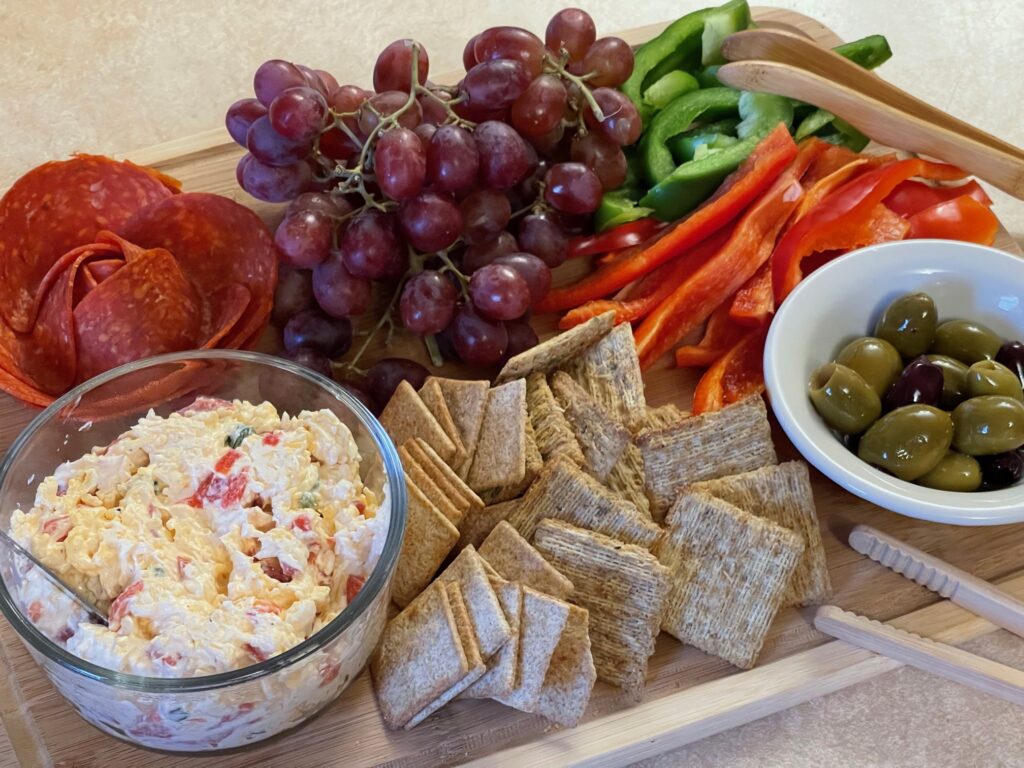 Some things to consider putting on your charcuterie board:
Dried meats like genoa salami, soppressata, calabrese, and pepperoni
A mix of hard cheeses like parmesan and soft cheeses like brie.
A variety of nuts. My favorites include almonds and pecans.
Olives! Kalamata, Spanish, stuffed…
Any fresh berries are sweet and add a lot of color to your board!
Dried fruits like apricots, figs, or dates
A mix of veggies such as sliced sweet peppers
Honey, dips, cheese spreads
Crackers, cut up pita or flatbread
Chocolate candies, like chocolate chips or m&ms
What board should you use for your display? I've used several different options for my charcuterie arrangements. One of my go to pieces is a large bamboo cutting board. I also have a medium and small size in this set that I use to create mini boards for before dinner appetizers. You don't need to actually use a wooden board. Use a plastic tray or a serving platter if that's what you have already. I have also created extra large arrangements on parchment paper spread on my kitchen counter. Just be creative as you are arranging your foods and enjoy!
Leah McKain