If you're looking for a crunchy snack with some protein, then you want to make some roasted chickpeas! They're super easy and quick to make, and you can season them with your favorite flavors. After they cool, you can store them in a glass jar for several days on the counter (if they last that long). You can make them in an air fryer or a conventional oven, although cookies times will vary. My son has a treenut allergy, and loves when I make these as a substitute. He's even made a couple of his own batches and used some spicy curry seasonings.
Ingredients:
1 or 2 cans of chickpeas (garbanzo beans), drained and rinsed. I also dried them on paper towels.
Avocado oil
Your favorite seasoning blend (I used Franks Red Hot seasoning with ranch), or you can just add salt and pepper
After draining, rinsing, and drying your chickpeas, put them in a bowl and drizzle with about a tablespoon of avocado oil. Season to taste, and stir. Place them on a baking sheet, and bake in a 400 degree oven for about 30 minutes. Stir after about 15 minutes, and check on them as they're roasting so they do not burn. When they are done cooking, let them cool. Place in a glass jar for storage.
You can snack on them as is, or you can add them to a salad for a little extra protein and crunch. They can fit in your macros if you are counting carbs. Let me know if you try these and what seasonings you used!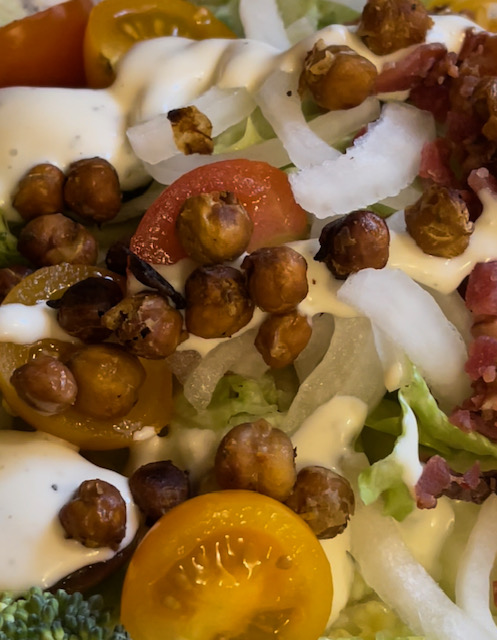 Leah McKain