Summertime gardeners know that there usually is a large yield of zucchini that needs to be used, and trying to find a variety of recipes is a necessity. One of my favorite ways to prepare this garden delight is to create a dish reminiscent of lasagna. Even those who aren't crazy about eating this rather bland veggie tend to enjoy these cheesy layers. If you are growing eggplant in your garden, you can also use that as well!
This recipe is low carb and vegetarian, and you can always make it lower in fat by using a low fat or fat free ricotta, and a low fat mozzarella cheese. Or you can create a vegan dish by replacing the cheese with vegan options. I opted for regular ricotta and a part skim mozzarella, and since I happened to be out of grated parmesan cheese I replaced it with nutritional yeast which has a nutty flavor similar to hard cheeses.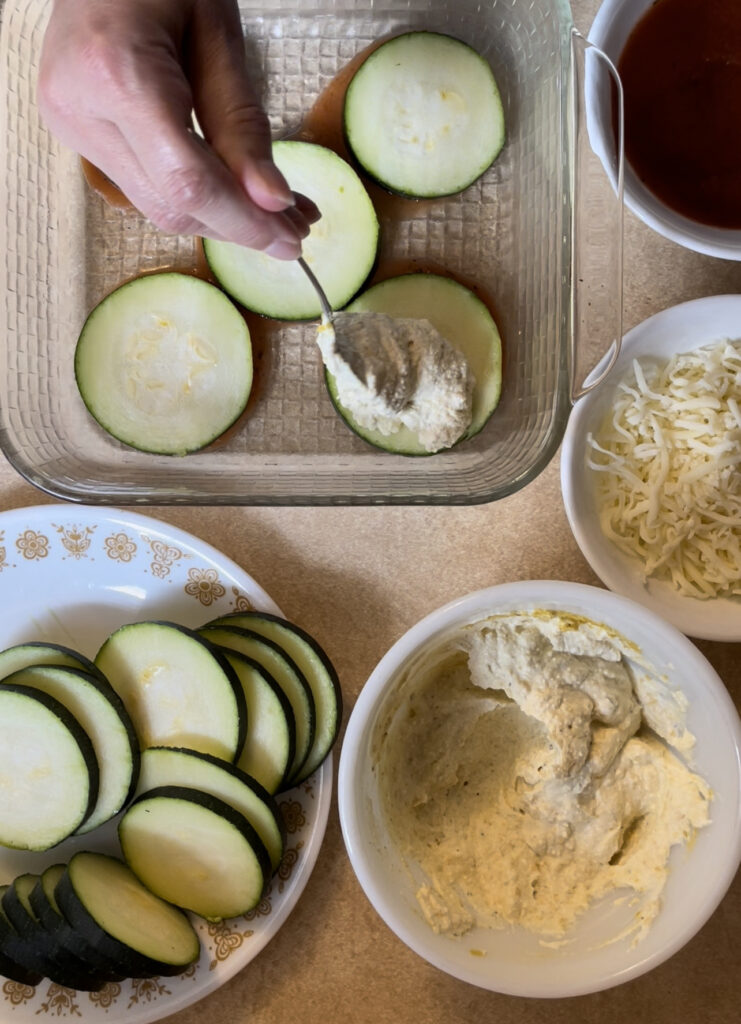 Ingredients:
1 medium zucchini
Your favorite low carb spaghetti or tomato sauce
Shredded mozzarella cheese, about a cup or so
Cheese mixture:
8 ounces ricotta cheese
¼ cup egg beaters or beaten egg
Garlic powder, oregano, black pepper to taste
¼ cup grated parmesan or nutritional yeast
Preheat your oven to 400°. Begin by washing your zucchini and slicing it into circles about ⅜ inches thick, just under ¼ inch. If you cut them thicker, you'll need to increase the cooking time. You may also need to adjust the cooking time if you replace the zucchini with eggplant.
Combine the ingredients for the cheese mixture. Prepare your baking dish by putting a bit of sauce at the bottom. Layer your ingredients as follows: zucchini, ricotta cheese mixture, shredded mozzarella cheese, a small spoonful of sauce, and then repeat. I made 7 stacks, each with 3 zucchini slices. After the last zucchini slice, finish with sauce and shredded cheese. Put in your preheated oven and bake for 20 minutes. The zucchini will have a slight "al dente" texture, so if you would like it softer, cook it a little longer.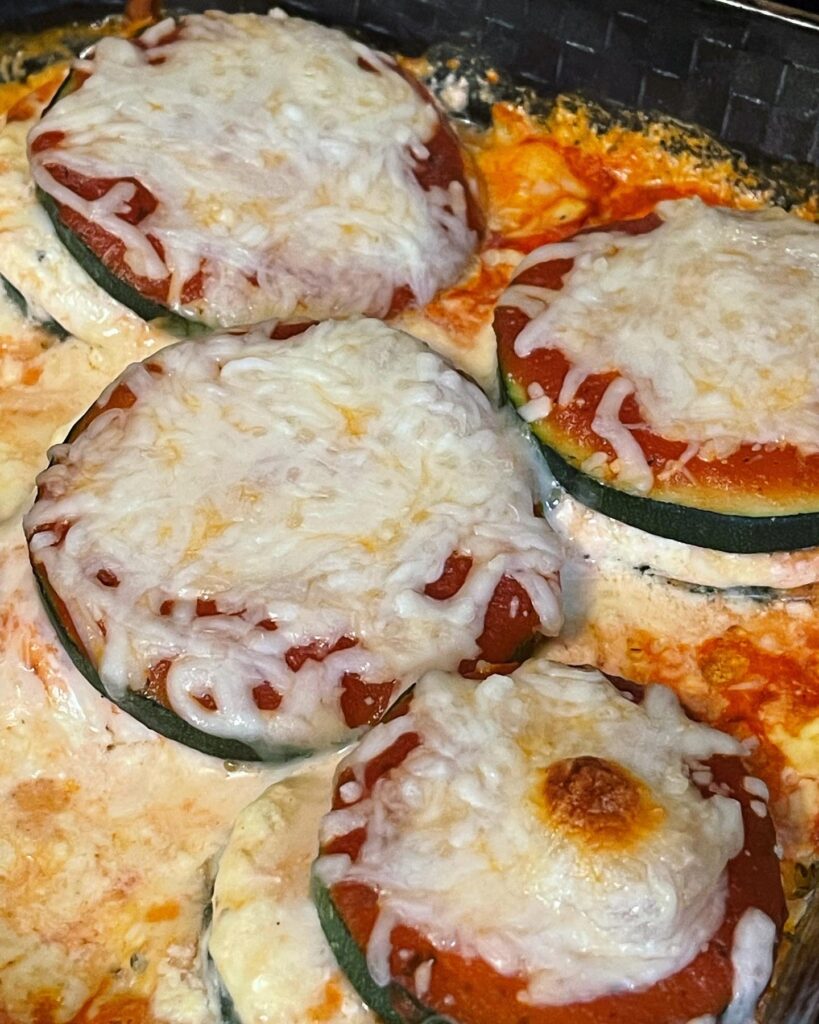 Let the dish cool for about 8 minutes before serving to let the cheese set up a bit. Some of the cheesy goodness will cook out into the pan. You can toss some hearts of palm pasta in the melty cheese, or if the rest of your family is not low carb toss in some regular pasta.
Let me know if you try this 🙂
Enjoy!
Leah